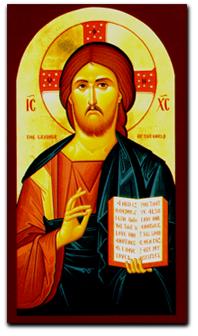 **We've moved! We're now at axiosdc.org. Thank you!
Axios DC: a fellowship of GLBT Eastern Christians in the national capital area for nearly 20 years.

AXIOS DC is the gay, lesbian, bisexual, and transgender Eastern Christian lay fellowship of the national capital area.

We serve the part of the GLBT community that is bound to the ancient Churches of the East by ties of faith, descent, culture, adoption, and affection.

As members of the various Orthodox and Byzantine Catholic Churches, we are drawn together by a shared sense of our unique cultural and religious heritage and our common search for a spiritual approach to the challenges of being gay and Eastern Christian.
"Arise, O Jerusalem, and stand on high, and look about toward the east, and behold thy children gathered from the west unto the east by the word of the Holy One, rejoicing in the remembrance of God." Baruch 5:5.
CELEBRATING VESPERS
In order to deepen and affirm our spiritual life, we meet on the third Friday of every month at 7:30pm for the celebration of the Office of Vespers at
St. Thomas Episcopal Church
in Dupont Circle. After Vespers, we have a meal and informal discussion.
WHEN:
Third Friday of every month, 7:30pm
WHERE
: St. Thomas Episcopal Church; The church is located at 1772 Church Street NW, one block east of Dupont Circle in Washington, DC and 2 blocks from the Dupont Circle Metro Station.
THROUGHOUT THE YEAR
During the church year, we also observe as many of the liturgical and ethnic customs of our members as possible, including Christmas and Epiphany parties, Maslenitsa (Mardi Gras), days of commemoration of the deceased, and patronal feast days, not to mention our Agape feast at Pascha.
We welcome all people who are in harmony withour goals and invite you to contact our outreach secretary at 202/997-6489 for more information.